Personal Training Testimonials

This is my personal transformation from back when I was an overweight child to 2014. I've only just passed the first stepping stones in my journey to physique transformation.
It is a life journey and an art and it is that exact thing that I enjoy the most, not just a final destination (because there isn't one)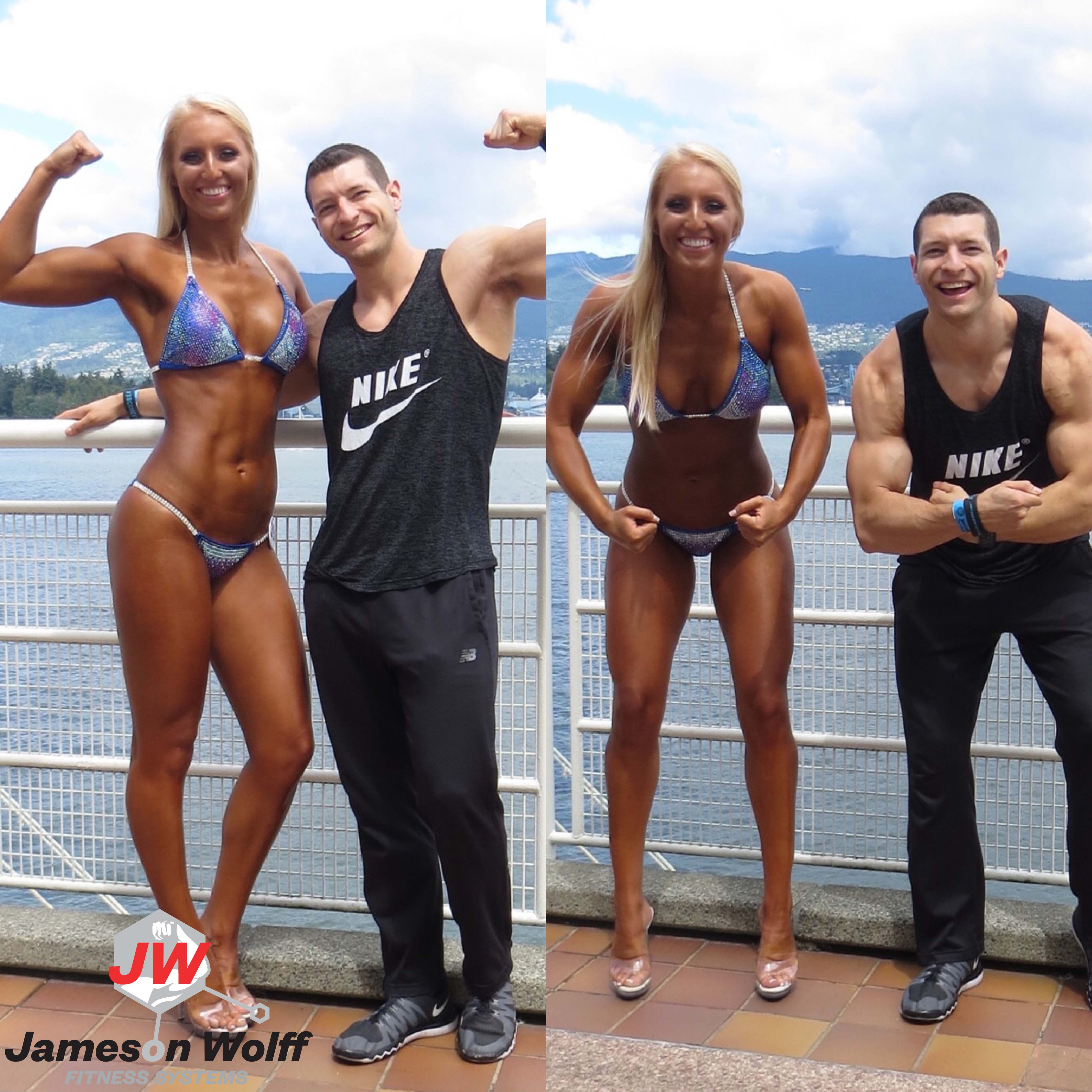 "My mentor/guru/coach/friend/trainer.
Who would have thought that after one night of searching online for a personal trainer at 2:00am I would find such a gem. Let me put it plain and simple: Jamie isn't like the rest of them. Jamie was and is my first personal trainer – sure I had several other coaches in soccer, softball, swimming, gymnastics, riding, volleyball the list goes on; but this one I got to pick myself. In all honesty, I got lucky – here I was some 20 year old girl surfing the internet, eager to get abs, his website looked legit, and before I knew it I had sent off an e-mail to meet and start training.
First impressions: 1 Nice guy, 2 Knows what he is talking about, 3 Has a sweet fully-equipped home gym
First week progress: 5% drop in body fat percentage
First month training: exposed to a whole new world of nutrition and training (IIFYM) 
First year of training: trained for my first Bikini Competition that took place in September 2015 where Jamie lead me to a 2nd place finish
Second year of training: trained for BC Provincials, July 2016, where I finished top 10

Timeline and statistics aside, what Jamie brings to the table above all else is 110% dedication to me, my training, and my nutrition. Yes, my physical shape has transformed over the past few years but there is so much more that has transformed than that. I was one of those "lazy but talented" kids growing up, which worked out through high school sports, but I knew it wouldn't get me through training for bodybuilding shows. Jamie has taught me dedication. He taught me that perseverance and a hard work ethic will always pay off. And with that, he has allowed me to flourish and prove myself wrong on numerous occasions; reaching goals and beating PRs time after time again.
Health and fitness is Jamies life. If he isn't training someone, sleeping, or eating, he is more than likely researching and learning more about health and fitness. Athletes put SO MUCH faith and trust in to their coaches hands, (manipulating your caloric intake, editing your training program, etc…) and this is why I stress the knowledge and dedication that Jamie possesses. The passion he exudes while teaching me about my macros, nutrition tracking, and exercises is fascinating and inspirational beyond words. How grateful am I to have found such amazing human to share my fitness journey with.
The number one reason people don't invest in a personal trainer is because it's expensive, but if you ask me, this experience has been priceless." – Natalie Amoore
Over the past year and a half Jameson has transformed me from a person who hated going to the gym and avoided the weights section to someone who now loves going to the gym and confidently trains in the weight section of my gym 2 – 3 times a week. He has taught me countless exercises and skills that have made me self-efficient at the gym, and also confident enough to know that I can properly train by myself – something I never had before.
When I first signed up with Jameson, I signed up because I wanted to have someone keep me accountable for going to the gym – someone to make me feel guilty about not getting my butt in gear for that 1 – 1.5 hours a day and sweating it out. It definitely worked. Jameson never made me feel bad, but he definitely made me feel accountable and always encouraged me to go to my gym – even if it was only for a 20 minute HIIT session. Having someone constantly support and remind me (in a friendly way) really helped me to get my gym schedule in order.
Jameson also taught me that you can push your limits if you work hard and put the effort and time in to reach your physical goals. When I first started training I had only ever hip thrusted a 30lbs weight bar. Now, a year and a half later I am capable of hip thrusting over 265lbs – I'm only 5'5 and 135lbs. Looking back at how much I have progressed over the short amount of time I trained with Jameson really solidifies the benefits of having a personal trainer, and keeping to a personalized training schedule. 
Not only is Jameson a great trainer, athlete, and nutritionist, he is also a great person and awesome friend. I loved my training sessions with him, as we became good friends and had lots of fun chatting about each other lives – all while whipping my butt into shape! Its always such a good time!! 
To anyone out there who is looking for a trainer – Jameson is your guy if you want someone to help you reach your goals and also want someone to build a friendship with. He really invests his time and connects with people on a deeper level than the average trainer your gym might provide. I would 1000% recommend Jameson to my friends and family – and I already have!!
– Megan Mulligan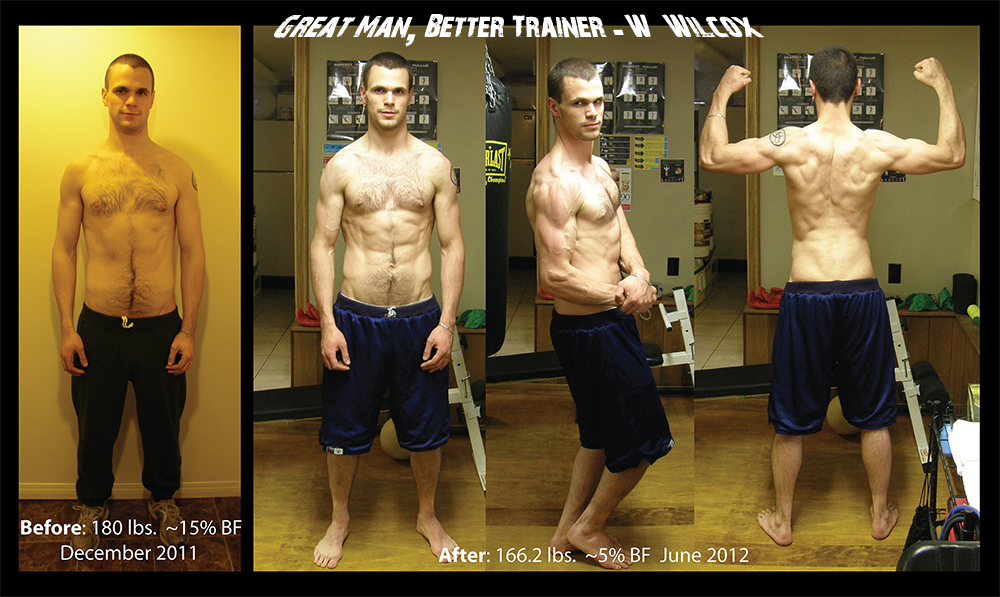 "There is no drug or substance that can take place of pure hard work, but without Jameson Wolff's advice on training and sports nutrition my efforts would have continued to be wasted on common mistakes and other things which would have only held me back and hurt my goals." – William Wilcox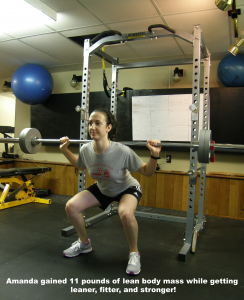 "I had originally come to Jameson Wolff to try to correct my posture and gain muscle to make my job easier. Before Jameson Wolff, I had constant back and shoulder pain from my physically demanding job and seeing a massage therapist once a month at the least. I can safely say that I haven't felt any back or shoulder pain in the short 3 months I have spent working with Jameson and I haven't seen my massage therapist as frequently. Not only did he help me correct these problems, but he gave me the knowledge I need to continue on my own.  If it wasn't for Jameson Wolff, I don't know how long I would last within my industry, and for that, I am eternally grateful!" – Amanda Hecimovic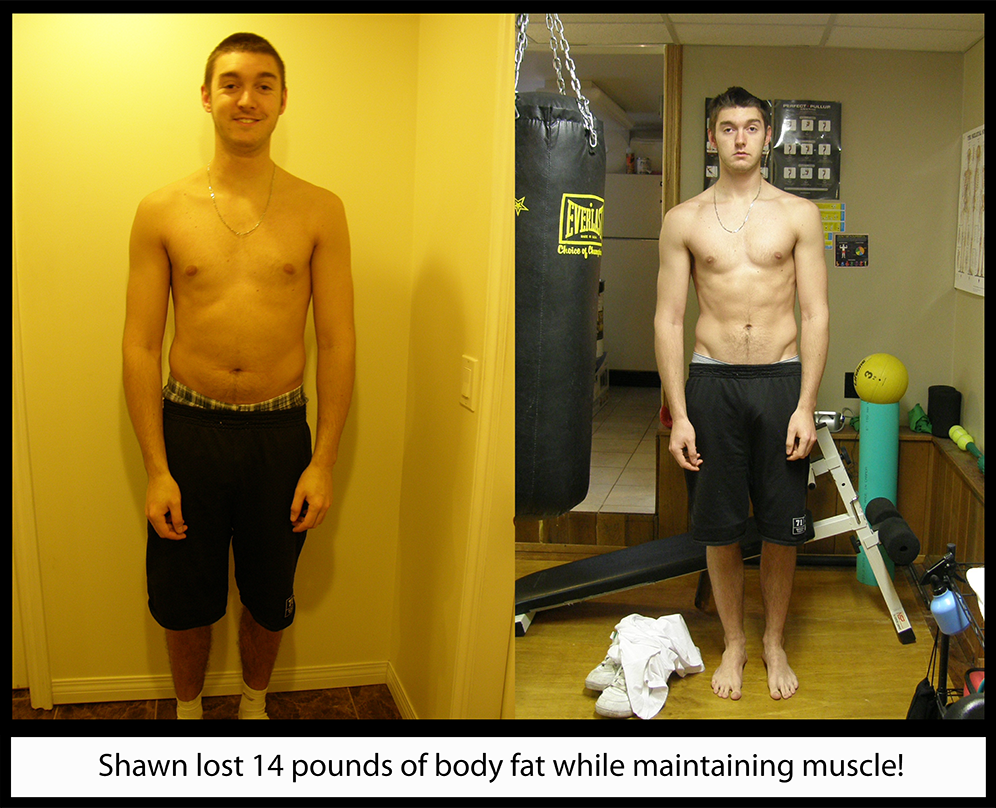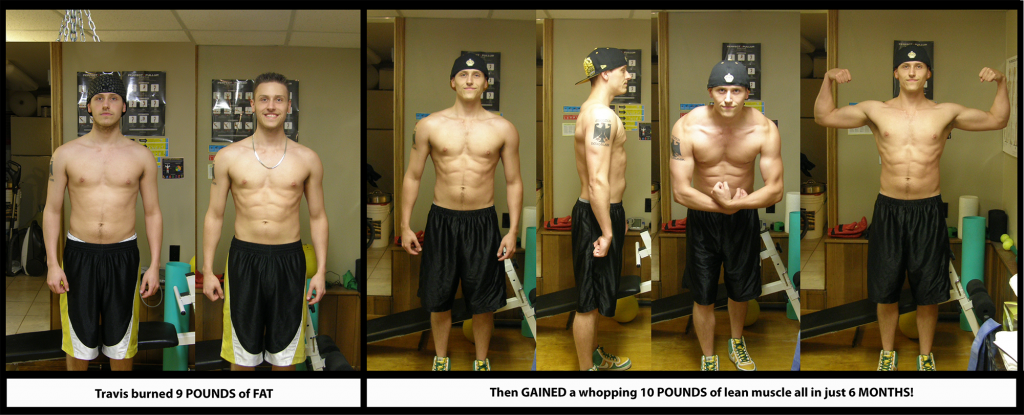 "Nutrition and hard work showed me what they could do for the human body. Those are the two main things that I learned with JamesonWolff Fitness Systems. It helped me develop my fitness and nutrition into a lifestyle opposed to just a temporary habit. I feel better in the morning and I am more energized throughout the day. From what I've learned it has given me the extra drive and ambition to see what I can achieve in the future." – Travis Titus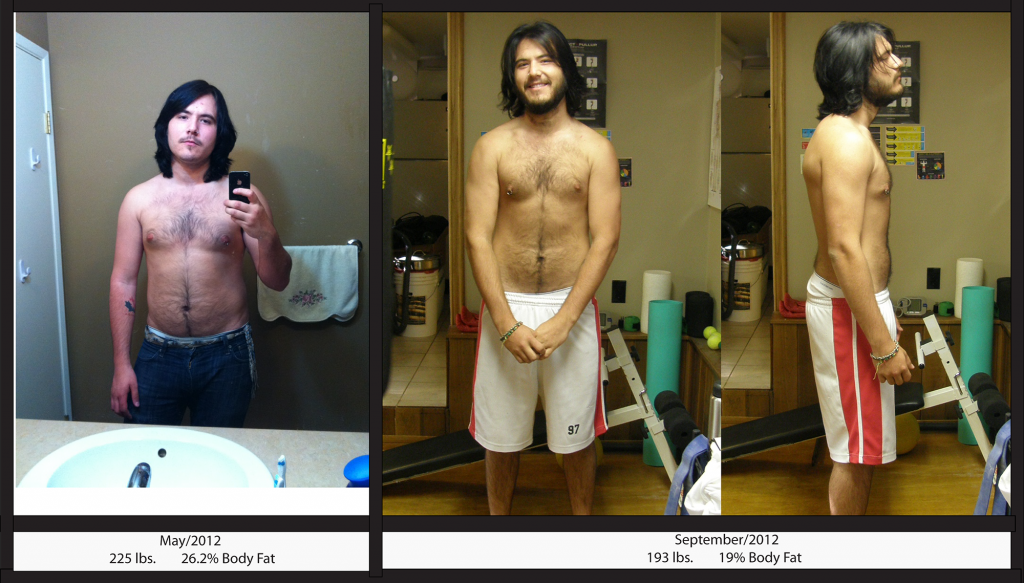 "Jamie I just wanted to say thank you for coaching me into shape. I'm really starting to take notice at the changes in my body already, my back doesn't hurt when I sleep, and I feel stronger. I'm less groggy in the morning, and I'm just a happier person all around than I usually am. You literally changed my life and I'm stoked to see what the future has in store."
– Carson Field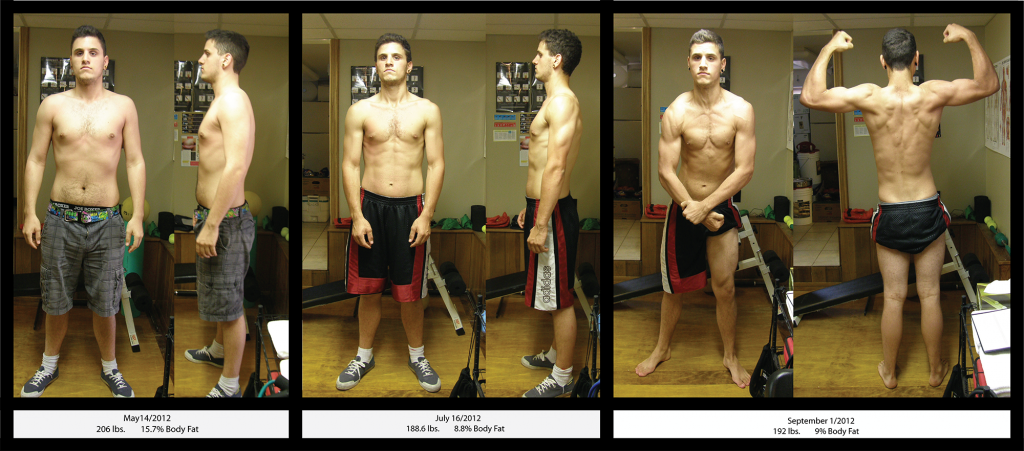 Chris lost 17 pounds of FAT in only 2 months!
"For a very long time, I was unmotivated to get into shape. This was simply because I didn't know what I was doing and felt like I was not progressing. Jameson Wolff opened my eyes and showed me that I really am in control of my body and what I want to look like. JamesonWolff Fitness Systems takes you through a step by step process in creating a real understanding of effective weight training. Without his help, I would have never achieved any of my fitness goals. Jameson is a great motivator and never makes you feel inadequate. He is very passionate and wants you to achieve your goals just as much as you do. The only thing that he requires of you is to take each and every session seriously and put in your best effort to follow your nutrition guide and cardio schedule. To put it simply, do what Jameson asks and you will see results. If you're looking for a new outlook on fitness and a positive lifestyle change, then I highly recommend JamesonWolff Fitness Systems." – Chris Iliopoulos
"Jamie was honestly a God send. I had just come home from the Philippines from a month vacation and usually when anyone goes on vacation they let go a bit and don't really look out too much on what they eat and that's what I did. I came home and looked in the mirror and told myself I've got to do something about this.
If I want to become a Paramedic I have to be physically fit to be able to fulfill my duties in helping others. I then decided to ask Jamie for some help and was it ever a blessing. The training was difficult at first but worth all the sweat and sore days. I noticed my body starting to change and I found that I had a lot more energy. I felt good and strong. I loved being able to lift heavy weights and get toned.
People around me also noticed the changes and whenever they asked me what I was doing I didn't hesitate to tell them about JamesonWolff Fitness. Jamie is such a great trainer and he really knows his stuff. He's such a genuine person and you can really tell that he is passionate about what he does and its contagious! Thank you so much for everything Jamie, you've truly been a blessing to me." – Chellsa Endal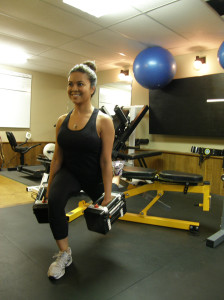 "I have only great things to say about Jameson's training skills.  I'm not usually one to be driven to exercise regularly but after working with Jameson that all changed!  I've never been so motivated and focused. He has helped me tremendously with routine, form, and most importantly diet. My energy and strength levels have increased noticeably and I'm definitely trimming down." – Veronica Perez
"Just want to thank Jameson Wolff for his incredible personal training. I have more motivation to workout now than ever before. With Jamie's knowledge and guidance, combined with hard work, has allowed me to see results faster than I ever thought. It feels good knowing that I am now into a great routine, with proper form when exercising. Not only that, but he also has proved to me what kind of impact an accurate diet has on my results. I would encourage more people to try out his training if you want to feel better, and look better! Show up to his sessions, follow what he tells you to do, and eat right. You'll be impressed with yourself in no time at all! Thanks Jamie!" – Jeff Demara 
"If you want a no BS workout with real results then JamesonWolff Fitness Systems is where you need to go. Going to Jameson Wolff will show and teach you the true realities of working out and bodybuilding. You will get an amazing in depth custom nutritional plan that works specifically for you and your goals. JWFS is worth every penny, your money WILL NOT be wasted and you will get more than what you would expect from a personal trainer. All that being said, don't bother going and shopping around for a better trainer because you're not going to find one." – Oliver Torok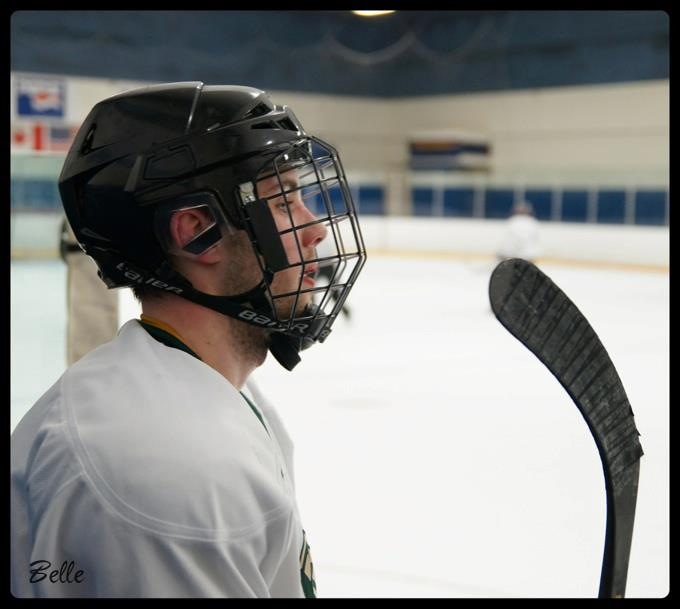 "When I came to Jameson Wolff, I was already knowledgeable of exercising and was in relatively good shape. My problem was that I had seemed to have reached a plateau within my athletic ability. With my goals set on becoming faster, stronger, and heavier, while maintaining lean muscle mass, and my freshman season of Div. 1 American University Hockey fast approaching, I could not afford to waste anymore time.  In only a few sessions, Jameson taught me more about exercise techniques, human anatomy, and the benefits of a healthy diet, than I had learnt from years of going to the gym. Not only did Jameson teach me the fundamentals of exercising, he educated me, through a detailed nutrition plan, the fundamentals of eating healthy and the feats one can achieve by doing so. After just a short time of following Jameson's intricate, well designed workout/nutrition program, I achieved more rapid results in all areas of fitness than I had ever thought possible. Not only have I reached ALL of my goals, I've exceeded them; becoming faster, stronger, and heavier, in only a few months. I feel less stressed and truly feel I have adopted a better quality of life. Jameson is a respectable, knowledgeable, great guy, and I would recommend him to anyone who wants a true professional in their corner. Thanks Jameson!"
– Matt Martinolich

"Jamie (Jameson Wolff Fitness Systems) has served as an excellent source of nutritional/fitness advice and information over the past year. He can personalize a nutrition plan that is unique and advantageous to every person and continue to be available for any questions/concerns you may have after. His plans not only advise you on proper intake of macro/micronutrients, but also provides indepth analysis and recommendations on all areas related to leading a healthy lifestyle. I appreciate his help in helping me achieve my fitness goals and recommend his services to anyone seeking a professional in his field who puts client satisfaction above superficial needs(i.e. $$$)" – Harry Jawanda
"I decided to come see Jameson after hearing raving reviews about his knowledge, programs and customized plans. I had a bit of success losing some weight but needed the guidance and advice of a professional, and that's exactly what Jameson is. What makes Jameson stand out in my mind is the amount of detail and attention he puts into all his clients; from his questionnaires before he meets with you, to his personalized plans, to his following up with you to make sure you're on track. He was constantly there to answer any questions I had about meals, food, exercises and alternatives when I travelled.
The success I have had since seeing Jameson is priceless. He has taught me so much on what my body can handle and what I should be doing to ensure that my body works at its maximum level. His passion for nutrition and fitness has become contagious in my life. In addition to losing the weight, one of my primary concerns was to lower my body fat %. Through his guidance, patience and dedication, Jameson has helped me do so and in addition, the biggest thing of all, he has made me appreciate myself and what I can do.
Thank you!!!" – Bonnie Yiu
"I'm happy to say as of yesterday I started training back at my gym! Also thanks for helping me out when I was injured for the nutrition plan, your knowledge at expertise was extremely helpful in making the right choices in order to cut as much weight as possible in a short amount of time. Overall I would recommend your services to anyone looking to lose weight or just wanting good nutritional tips! Thanks" – Ryan Pickard
"Before I had a nutrition plan from Jameson Wolff, I was incredibly stressed at work and had no time to cook and prepare meals. Since then, Jameson has helped me by teaching me how to meditate and reduce the amount of stress in my life. He has also helped me by developing a meal plan according to my busy work schedule. The meal plan was also created to cater my goals as to what I had wanted my body to become. Thanks Jameson, for helping me achieve my goal! I highly recommend going to see Jameson for tips on how to eat properly to achieve your fitness and health goals!" – Valerie G
"I was overweight, not happy with myself and finally realized that I needed to understand how to eat healthier so that I could achieve my health and fitness goals. I was referred to Jameson who helped me understand how my body works and how my body adapts to certain foods. Jameson came up with a meal plan for me that fit into my lifestyle. A meal plan but more importantly, educated me on how to eat healthier. Jameson….I appreciate you big time and am thankful I was introduced to you. With your help, proper training and supplementation, I dropped 4 waist sizes within my first 90 days. Weight I've been able to keep off since then. The confidence I have within myself is priceless. Thank you!" – Yonel Prasad
"Hello, my name is Anthony and I used to be a little overweight. I was over 30, 5'7″, Asian, and had a terrible diet. I loved all the fat kid goodies…you name it, I've probably tried it. As a result, I weighed about 200lbs…NOT sexy for a shorter build Asian guy among a sea of small Asians in our city, haha. In fact, probably many Asians in my generation are stuck when it comes to education on their own health. This is partly to blame on our parents and the media, who were not informed of health risks that have now arisen due to advances in science and those darn fast food commercials. So, for the first time and final time in my life, I needed to get all the facts straight, which leads me to JamesonWolff Fitness Systems. I just want to give a big thank you to Jameson for helping me achieve reaching my nutritional and weight loss goals. Now, before meeting up with Jameson, I had already lost 50lbs. HOWEVER, I only had a basic understanding of how the body benefits from proper nutrition and the introduction of certain foods to someones diet. He was able to help me lose an additional 2% of body fat and tone my body up by maintaining muscle while building upon it. I really enjoyed the way Jameson sat down and asked me many questions about my daily routine; such as my diet, activity level, and goals. Armed with all this information, we finally compiled a list of foods that I would benefit from in achieving my goal…and what's really cool, it is custom coordinated to my blood type. Everyone's different, and this is what set him apart from other fitness systems out there. For the first time in my life, I had a clear understanding of what I needed to DO and EAT in order to achieve a PROPER and healthy lifestyle that I wanted to lead. Nutrition, health, well being, and exercise doesn't have to be hard…it just has to be done right, thanks Jameson!" – Anthony Tang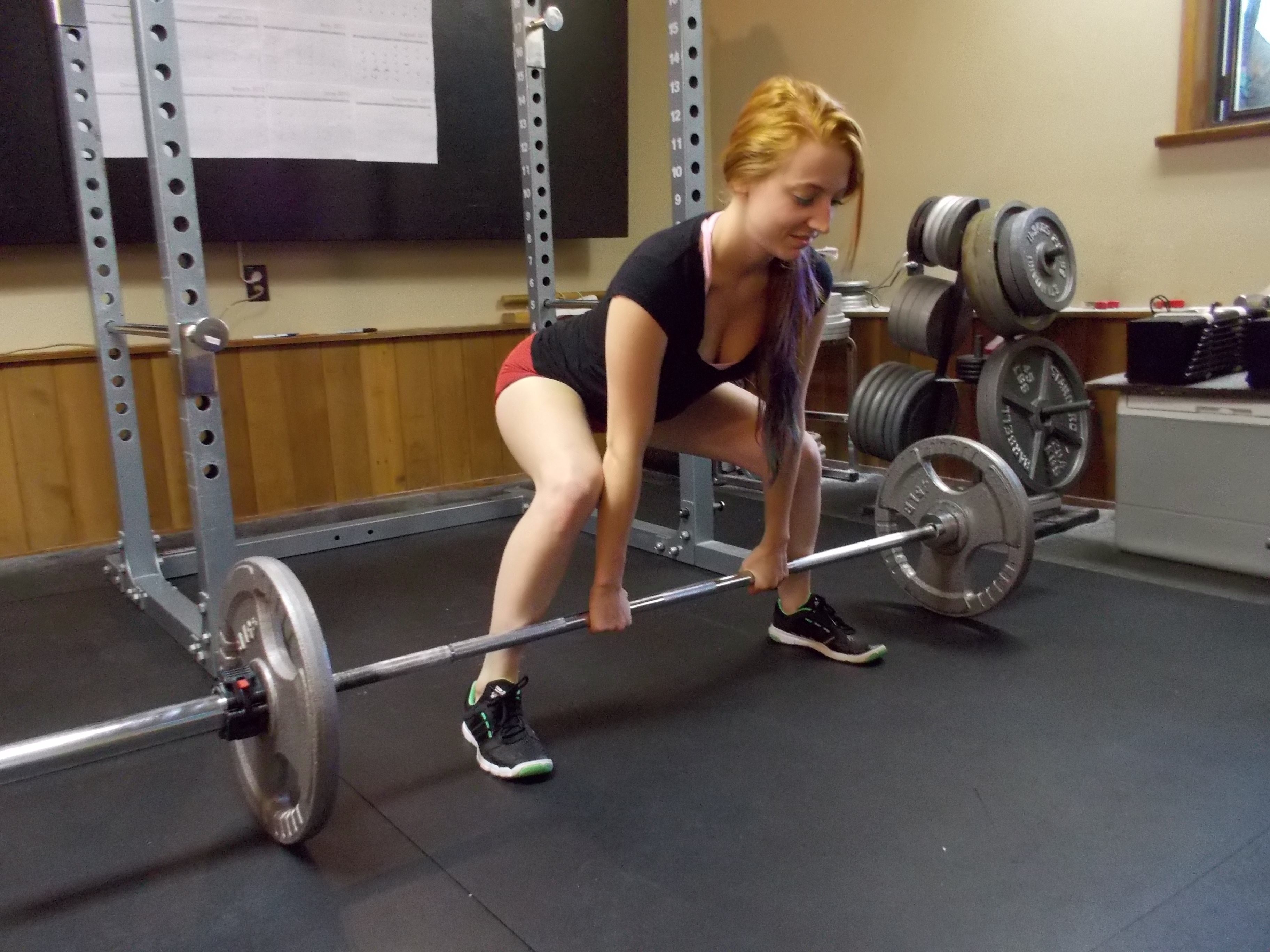 "Oh where do I begin? I knew Jameson well before we began training together so I knew I was making the right decision. I knew he was kind and laidback, two very important traits I needed to have in a trainer. Plus, Jamie is not only educated in his field, but very passionate about fitness and helping others, we always had conversations about what he was researching or reading in his field, and that made me confident in what I was being taught. The main reason I started training with Jamie was to gain strength, I have always been weak, thanks to good old genetics, I stand at a tiny 5'1 and 110lbs (pre Jamie AND even after getting into fitness myself, I was barley capable of curling 5lbs more than a couple times, BUT now I am comfortably curling 15lbs and I went from squatting with no added weight to a PR of 120LBS, that is more than my body weight But that is where Jamie's training becomes not good but GREAT; I came to him to build physical strength, however I was going through a rough year in my life and it was his training that honestly helped me get back to my positive, rational, and happy self. He taught me how to put my head into my workout, because fitness is not just about the body, it takes a connection between your mind as well. I have ONLY amazing positives to say about Jamie and his training style, and I am looking forward to the new year, as I will be training with him again!" – Hallie Hoffman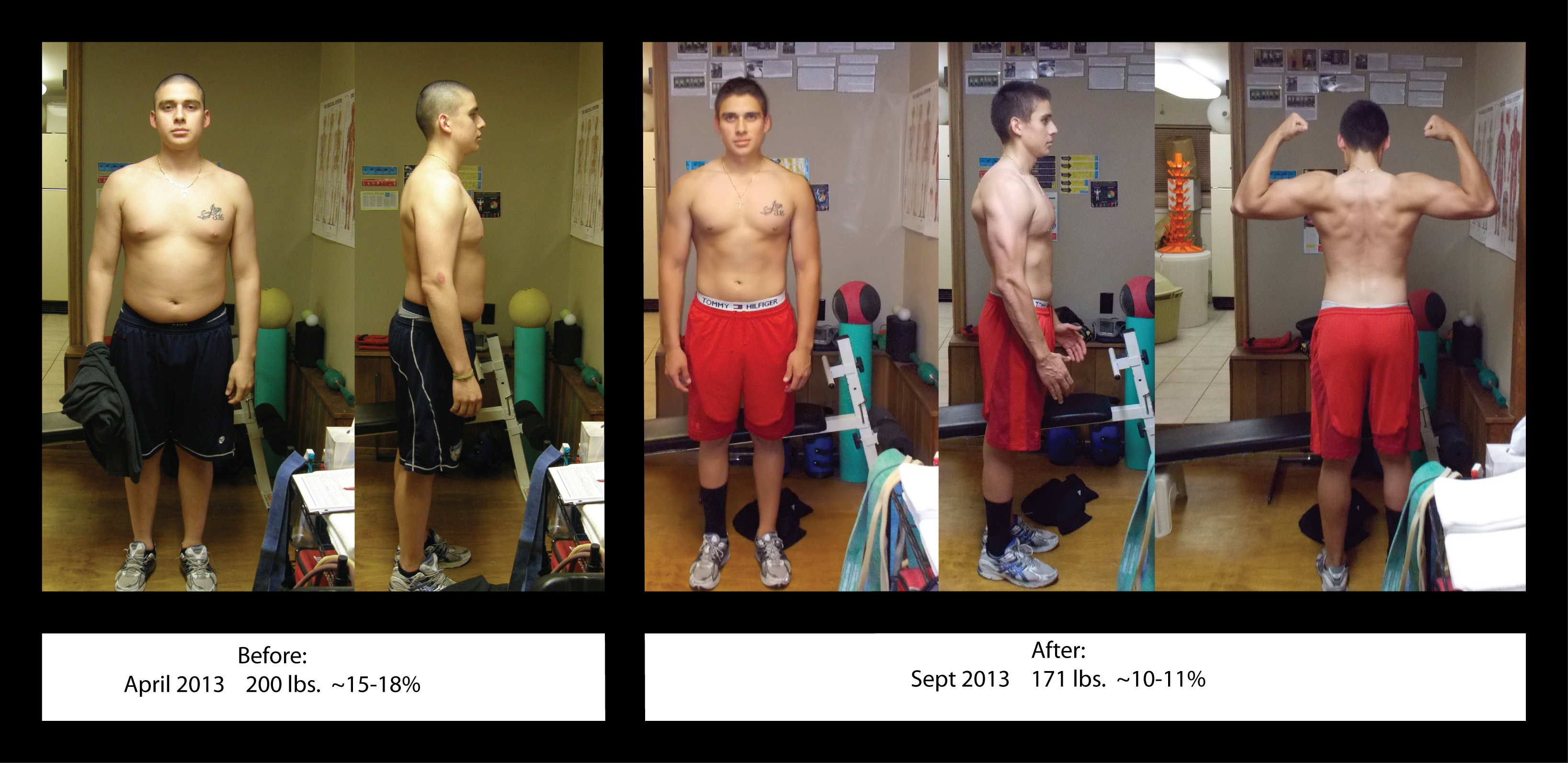 "When I first started working out with Jamie, I was lost. I couldn't play hockey because of an injury, so I decided to take about 6 months off from any kind of exercise. I gained unwanted weight very quickly and before I knew it I was weighing the heaviest I had ever been in my life. Jamie really took the time to teach me about optimal nutrition and how it can be used to defeat genetics. He took the time to teach me about implementing a proper weight lifting program that would give my muscles time to rest but still push them to the limit. I learned about correct form for lifting and it really helped me in the long run in terms of seeing results. In the end I would recommend Jamie to anyone who is seeking a trainer that devotes his time to someone who really wants to reach his or her goals. He stands beside you and encourages you to hold yourself accountable when you hit some speed bumps on the road to success. Most importantly he has become a good friend and an even better mentor. Excited to keep training with Jamie." – Christian Rodriguez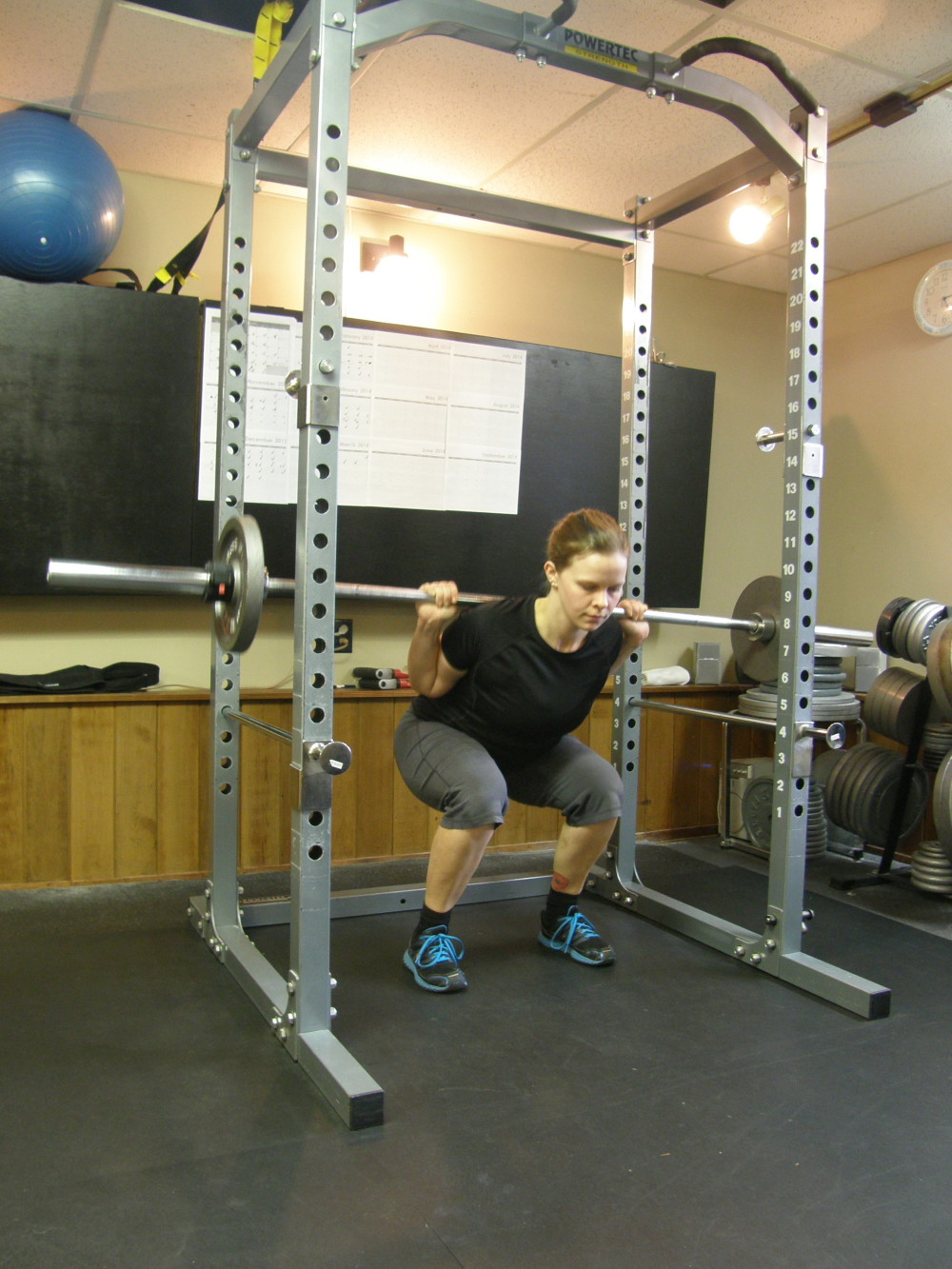 "To say that Jamie is passionate about fitness would be an understatement. He lives for fitness, in all it's many forms. I have learned so much from him, not just about weight training but about my body and myself. As a commercial transport mechanic I need to stay strong to do my job or live with the consequences, pain. Jamie not only helped me get strong enough to work in my profession pain free, I actually enjoyed it! He worked with my limitations, I have a bad neck and upper back from a car accident, and was always eagerly able to provide alternatives when I needed them. He had the right balance of encouragement for me to keep pushing myself and understanding when I wasn't feeling up to something. I know that weight training will always be part of my life now and that doesn't seem terrible anymore. I wish I could keep Jamie forever but he has certainly given me the tools I need to succeed on my own. He not only equipped me with knowledge and skill but the drive to actually go out and do it. I can't thank him enough! (not even a whole kitchen full quite covers it)"
– Gillian Paddon, 27 year old Female
"I also just wanted to take a minute out and thank you for everything. I have seen serious changes in my body, strength and endurance. It would not have been without all your hard work and dedication. You have a sincere passion for what you do and it shows!
I had hit a plateau before meeting you and didn't know how to overcome it. With your training, guidance, support and nutritional expertise, it has really helped me achieve the results I have been aiming for.
Thank you for everything and I look forward to seeing what more I can achieve!" – Preet
"Just saw your post and it reminded me to thank you and let you know what effect your knowledge has had on my gains as well. Although I've only had one fitness assessment with you, I still remember a large portion of what you taught me that day. I'll definitely be coming in for another assessment in the future to compare how far I've come since – but I think I've come pretty far despite having been busy with school and mainly working off of your advice and the tips I learned that day and what I've learned from my own research. I like how you actually use science (and not broscience) as your basis on how to eat and train. You're honestly one of the only PT's I know or have seen who answers questions based on solid research, and it shows. By that I mean I've seen so many trainers who don't look like they practice what they preach ("your trainer needs a trainer"). Thanks for all the help man, you're helping more people than you think because I share what you've taught me with others all the time!" – Matt Kownacki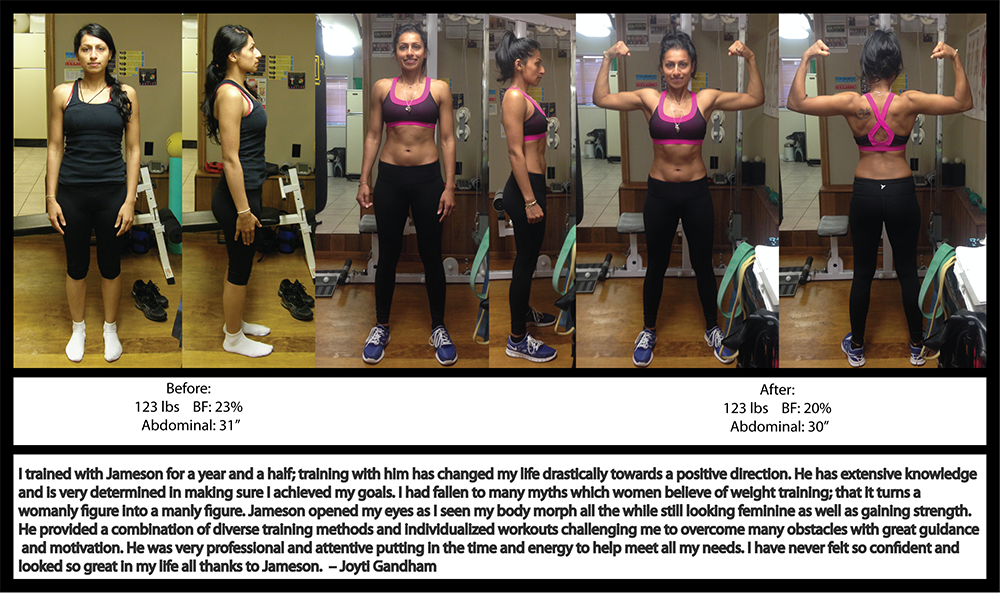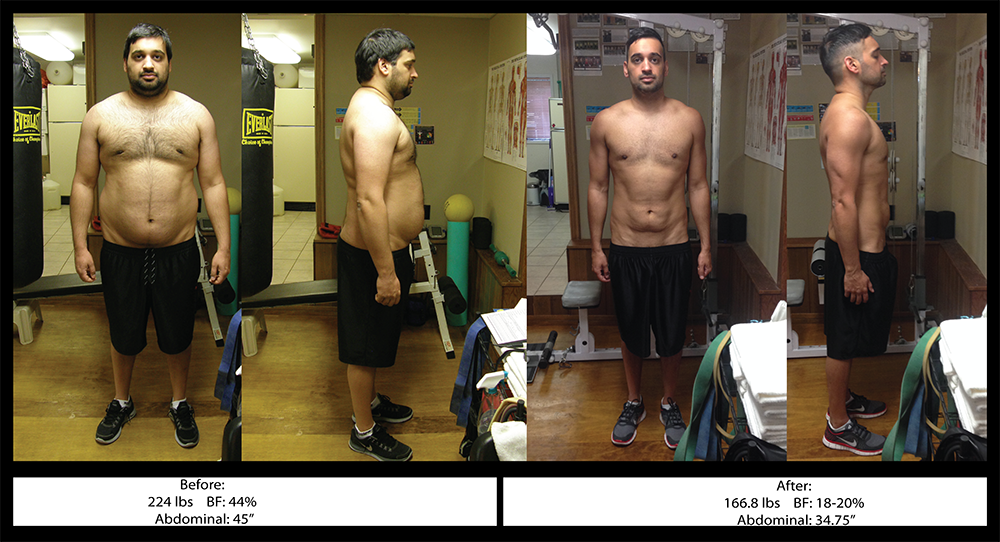 "I have been training with Jameson for 7 months and can't begin to express how amazing he has been. I have been to other trainers and tried every workout under the sun and have never achieved the fitness level I am currently at, I have never felt stronger. Jameson is passionate about fitness and it shows through the energy and enthusiasm he brings to every session. His easy going, friendly personality creates a relaxed, comfortable atmosphere. He makes each workout challenging, creative and most importantly, fun! He also places a high value on correct form with each exercise. He motivates me to push past my perceived limits to get results. If you are serious about changing your life for the better, Jameson will lead you every step of the way." – Ashleigh McGuckin
"In regards to JamesonWolff Fitness Systems!
 My short duration with Jamie has been nothing less than awesome. Not only has he helped me reach my personal goals but he taught me proper body mechanics and showed me different ways to achieve my nutritional goals! Beyond all of that though Jamie has been a motivator. In my line of work, life can get messy at times, making getting to the gym hard. Jamie held me accountable and helped push me when I thought I didn't have much push left. Overall, great experience and I can proudly call Jamie a good friend. Keep it up bro!" – Stefan Weber. 
"Due to a hectic school and work schedule, I noticed that I hadn't been taking care of my health as much as I should have. A friend recommended that I contact Jamie to see if he could help me, and it turned out to be a wonderful decision. I essentially started from square one with little to no knowledge of what I was getting into. Thankfully Jamie was and is very knowledgeable and passionate about what he does, and it shines through in his work ethic. He also helped me develop my fitness goals and gave me the tools to implement them independently. He provided a friendly, safe atmosphere for me and still continues to motivate me to keep pushing my physical limits. Thanks to him, I am much more confident, not only physically, but mentally when it comes to my fitness goals. Thanks for everything Jamie!" – Ash Joyce
"If you're looking to feel better about yourself, understand how muscles/body tissue really work and get fit in the process then look no further than JamesonWolff Fitness Systems. Jameson is extremely knowledgeable in his space and makes working out fun and educational. I left every session feeling energized and anxiously waiting for the next one. Throughout my 3 month transformation with Jameson, I noticed muscle growth, higher energy levels and am a lot more equipped to continue my journey working out the "right way". From a nutrition perspective, Jameson was also on point. Like I said, he knows his space! I complete my time with him a very happy client and confidently recommend JamesonWolff Fitness Systems to anyone looking to make a change for the good!" – Carlo Bustamante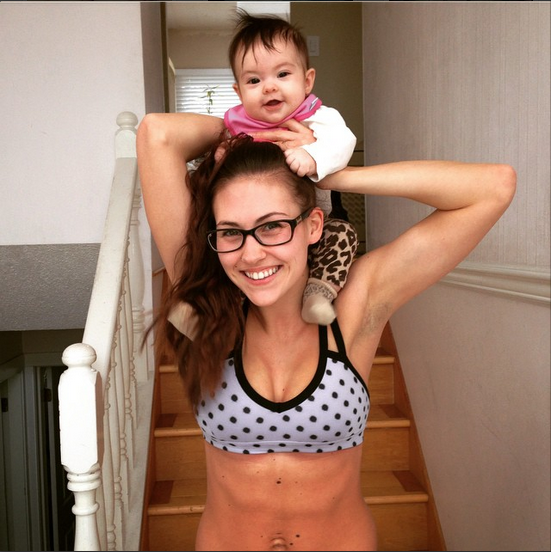 "I've known Jamie for quite a long time, and have watched him become extremely successful doing what he enjoys most. I have always had a passion for my health and fitness, but when I became pregnant, I wanted to make sure that I got right back to the fitness level I was before having a baby bump! I immediately gave Jamie a call and told him that he would be whipping my butt back into shape as soon as I had my daughter. Even before he started training me, he was always sending me helpful tips and answered any question I had. If you are looking for a trainer whom is helpful, knowledgeable, and encouraging…he is your guy! Jamie taught me everything I needed to know on eating habits, form, and consistency. He always pushed, and continues to push me to be that much better. I was so impressed with my programs and the results I was beginning to see, and just how fast I saw a change in my body. I felt great, and I noticed I looked great, and I had popped out a baby only a few short months before! I became extremely proud of how I looked and felt! I was also extremely impressed with how professional Jamie was, and how he was and is available at any given time to help you out. I began to actually train with him when my daughter Violet was just over two months old. She is now 5 months old, and I have lost all of my baby weight (and a couple extra pounds) and have gained lean muscle at the same time. Needless to say, I am so grateful for this man, and I will continue to train with him for as long as I can!" – Katelyn Kryger
"Jameson's friendly easy going attitude encouraged me to reach many new personal goals while working out. He also helped me to improve my posture, which I had no idea was affecting my everyday life so much. Jameson has taught me to be accountable for all my workouts and food intake and has helped me gain strength in all exercises. When I first started I could barely do a squat. Now, after only months of work, I can proudly say I'm squatting my bodyweight. I am so appreciative to everything Jameson has taught me. He has made working out fun and really has made me feel a lot better about the small and big progresses along the way." – Stephanie Erickson 
"I remember 4 or 5 years ago, receiving a phone call from Jamie regarding a business he was planning on starting up. He asked if I could simply spread the word and while I had no problem doing so, I had never imagined this entrepreneurialism of his would turn into the great success of JamesonWolff Fitness Systems now is. 
I'm surprised Jamie put up with me for as long as he did. For a couple years I would constantly be bugging him, asking him endless questions regarding fitness and even back pain issues I was having. He was nothing but helpful and would give me very thorough answers. I finally decided it was time to come in and see him. I didn't think Jamie would be able to put together a workout to adapt around my unpredictable schedule but he did just that. 
I had gone to endless chiropractors, acupuncture treatments and physiotherapy to help with back pain. Jamie incorporated some simple exercises in my workout and within weeks my back pain reduced immensely. 
I truly believe with the motivation and commitment, Jamie can help anyone achieve their fitness goals. Can't speak highly enough about this guy. As a long time friends of Jamie's I couldn't be happier to see him make a successful career for himself, doing what he loves."  – Kevin Gibson​
"I knew a few people who had been trained by Jameson before, and they all seemed very satisfied with the training they received and the results they achieved, so I thought I would give it a try.  I am so happy that I did.  I was hoping to gain muscle strength and become more toned, and I did, but what unexpectedly ended up being the best benefit of Jameson's program was the virtual elimination of my back pain.  I have had nagging back, neck and shoulder pain since I was a teenager, and I had pretty much just accepted that it was an unavoidable part of life.  Since training with Jameson I no longer come home at the end of every day with a big sore spot in the centre of my back and tense, achy shoulders.  My posture has greatly improved as well.  To me, this alone makes all of my training with Jameson totally worth it.
Overall I am very happy with the personalized program I received.  Jameson really takes the time to get to know what your specific needs and goals are, and he makes himself readily available to answer questions or give further advice to his clients.  I would recommend him to anyone looking for help to achieve their fitness goals." – Joanna
"I came to Jameson with a specific goal in mind; to drop pure fat and transform my body. The goal was simple but I needed direction and a professional's guidance.  I knew I had a decent diet plan and training program already but I was seeking advice to dial this in further to reach my goal. When I met Jameson he was professional, encouraging and believed in what I was attempting to accomplish. Jameson was the competitive edge I was seeking!
I highly recommend Jameson if you are serious about your fitness and training. Jameson will not only guide, but teach you how to make the changes you need to reach your fitness goals in the short and long term. I have recommended Jameson to my friends and coworkers and will continue to do so. Thanks again Jameson." – Adam Hassett
"I have been a member of a gym for the last ten years. In the past, I dreaded going for workouts because the atmosphere was intimidating and I had no clue what I was doing. I was very self-conscious about what exercises to do and I was worried I was using incorrect form. Nutrition wise, I was just as clueless. I tried several approaches to healthy eating and failed to maintain any extreme diet for any length of time. Needless to say I never reached my fitness goals or physique goals.
About one year ago, I was referred to Jameson from a close friend. From the first time I sat down with Jameson to discuss goals I felt instantly at ease. His calm and nurturing nature is welcoming and open.
First, we tackled nutrition together. I am a devote vegetarian and he was completely respectful of that. He had several ideas of options I could eat to ensure I was having the proper intake of nutrients each day. His system is the easiest to follow that I have ever used. I think the biggest difference nutrition wise is his ongoing support. Jameson truly cares how each of his clients is doing. If I would slip up with nutrition I would never feel judged or shamed by him. He makes you be accountable but is very uplifting and motivating when someone is feeling guilty.
When we started training together I was both nervous and excited. He is a stickler for proper safe form. Throughout the session he uses educational tools to help explain what muscle is being worked and the benefits of an exercise. His routines are tough and focused on the client's personal goals.  My goal was to gain strength. Every week we would lift a few more pounds and I've never been so strong in my entire life.
Now when I enter my gym I feel like a whole new woman. My chin is high and my eyes are focused. I have the knowledge to tackle any workout in the busiest of gyms and the confidence to know how to perform any exercise safely and effectively. Jameson has given me a new level of confidence in myself I never knew existed. I am the healthiest and strongest both mentally and physically I have ever been. I am forever grateful for all the time and effort he has spent teaching me. I would highly recommend his personal training and nutrition services to everyone. He positively changed my life immensely and he can help change yours too!"    – Heather Docksteader
"I found out about Jameson through my cousin. She looked amazing, after working with Jameson for months. She was toned, stronger and had so much energy. I decided that it was my time to gain strength and change my lifestyle. I had two previous car accidents which resulted in multiple injuries. Working out and re-training my body was painful so I just stayed away for as long as I could.
Jameson is very passionate about personal training and it shows in his enthusiasm and demeanour. His methods for training helped me to understand the correct postures when weight training and he ensured that I knew what muscle each exercise was working. He not only developed a personalised training plan for me, he also developed a meal plan which focused on foods that I liked to eat and incorporated some of the foods I was eating.  
I never thought I would be able to lift as much weight as I am now and actually love it. Every week, I feel stronger and am lifting more. My pain is gone from both of my accidents, my body feels better and more toned and I have muscle development in places I never thought I would. Thank you Jameson for your commitment to personal training and your constant motivation. You are continuously educating yourself which in turn helps out your clients in amazing ways. I have been with Jameson for more than a year and it was the best investment I have ever made. Thank you."     – Sunny
"After one of the most awful years of my life battling anxiety, depression, and as a result excessive weight gain, I was overwhelmed with the task of trying to recover myself both physically and mentally. I had managed to gain just over 40 lbs in less than a year and had no idea where to start. Once I had mentally recovered Jamie was an incredibly huge support system for me and my physical health, keeping me accountable, realistic and always reinforcing the belief that I can and will reach my goals.
 Jamie creates an atmosphere in his gym like no other and it comes from the energy that he puts forth; extremely safe and comfortable, always focused on the positives in life. It's a place you look forward to going, which is rare for some of us when it comes to working out.
 After training with Jamie and making some changes in my diet I can proudly say that I am down 24 lbs, and he has prepared and educated me to continue down a path that will lead to not only additional weight loss, but more importantly self confidence like I've never had before."     – Taylor Scott
"Let me start off by saying how incredibly knowledgeable Jameson is. Jameson isnt just book smart, he REALLY & ACTUALLY applies his knowledge during training. I've seen a trainer previously and there was always something lacking. I was never motivated like I was with Jameson. His passion and drive for fitness and better health makes you want to better yourself and push yourself harder. Jameson does a thorough assessment of you initially to get a sense of baseline or your physical level. Some of the assessments done I'd never even heard of but it still amazed me. He then tailors your workout to your goals. Each time I trained with Jameson I looked forward to being there,no matter how early it was. He pushed you to greater limits and I actually made personal records which I've never done before!! Jameson works super hard to tailor each workout to your needs. From previous training attempts my workouts never changed and I never saw any progress. With Jameson I felt stronger. Thank you Jameson for seeing the "powerful" side of me and pushing me harder. I'm forever grateful for your knowledge and expertise and I hope we can train again together in the near future."
– Poonam S.
In merely a year, Jameson has taken my preconceived notions regarding fitness and expanded them beyond what I thought possible. Despite being a fairly active person for most of my adult life, I've struggled to gain lean muscle mass in a concrete way. In retrospect, I realize that I've always lacked the belief and the knowledge that I could transform my body through smart training and nutrition. Jameson's inspiring style of training does something I never thought I'd find in a personal trainer, make you believe in yourself and the change you can undergo. I've been able to start on the path forward to my fitness goals and lean muscle growth, thanks entirely to him. He works hard to instill a sense of discipline and routine in his client's life, and ignite a flame of change in their hearts. And Jameson doesn't skimp on the knowledge aspect of fitness! Being a science nerd myself, I've been immensely grateful for all of the conversations he and I have had on the mechanics of the movements I enacted. While still a novice, I finally feel like I understand the biomechanics of each exercise I do, and can take that knowledge to manipulate my workouts in the future. In short, Jameson is a friend, a trainer, a mentor, a confidant, and a generally beautiful human being. If you're looking for someone to inspire you to higher fitness and health, look no further. Jameson Wolff is your answer. – Sid Cherukupalli
Body image has always been something I have struggled with since I was a kid. From a young age I was always 15-20 pounds over weight and it didn't seem to be something I was able to control.   Like most people, I had this fantasy of the way my body could look like if I just went to the gym and worked out… I mean, how hard could it be? So with what little knowledge I had in my back pocket from YouTube videos and fellow gym-goers, I would haul my behind into the gym and push, pull, swing whatever piece of iron I could get my hands on – while aimlessly dreaming of the body I so desired to have. Like most people who have big dreams with no plan, I seemed to be going nowhere fast. I was fortunate enough to have a friend introduce me to Jamie, as she had just finished competing in her first fitness competition with amazing results. My first session with Jamie proved to me that he was extremely knowledgeable about health and fitness – and his evidence based approach really taught me to understand my body and learn how to improve my  physique by doing the right work outs in the gym and eating the right foods based on my fitness goals. Jamie made a point that I knew he would always be there for me when I needed his guidance and I can confidently say he was true to his word. Over the period of a year and a half I had seen Jamie every few months, and once I decided to take my goals seriously I was able to drop from 165 to 145 pounds while maintaining muscle mass and having abs for the first time in my life! Weight lifting is a sport, and any athlete who ever achieved any level of success in their sport all have the same thing in common – a supportive coach to help guide them to their goals. I can proudly say if it wasn't for Jamie I wouldn't have been able to achieve the physique I have now, and is why I continue to seek his guidance as I continue to embark on my new fitness journey.  – Brandon Gopal
I am 42 years old and I have been training with Jameson two hours per week for two years. I have a high stress job with a long work week, and our weeknight workouts have helped me cope with stress, restore and maintain posture, and build strength and muscle to better equip me for the sports and activities I love to do. Jameson knows his stuff, he's conscientious and very motivating. He develops routines with a variety of exercises to keep it interesting and challenging. His gym is private, fully equipped and spotless. Jameson is engaging, hard working, professional and easy to be around. When I think of where I was at when we started compared to now, I feel very proud of what I have accomplished in two years with Jameson's help. My friends tell me how much this training is paying off. My arms, legs and glutes look great if you ask me, they are really strong and my physical endurance is so much better than it was even in my 30s. I would recommend Jameson's programming without hesitation for strength, better health and a more active life.
– Isaac North Delta, BC